How False Advertising Affects Trust
Mikayla Noguiera, a beauty influencer who has 14.6 million followers and 1.2 billion likes on Tik Tok, found herself at the center of controversy (which Tik Tok users cleverly refer to as "Mascara-Gate") after posting a sponsored advertisement for L'Oreal's Telescopic Lift mascara. In this video, Noguiera said, "This literally just changed my life," referring to the mascara. However, soon after the video was posted, viewers accused Noguiera of using fake lashes and participating in false advertising. Below are comments users left on the video.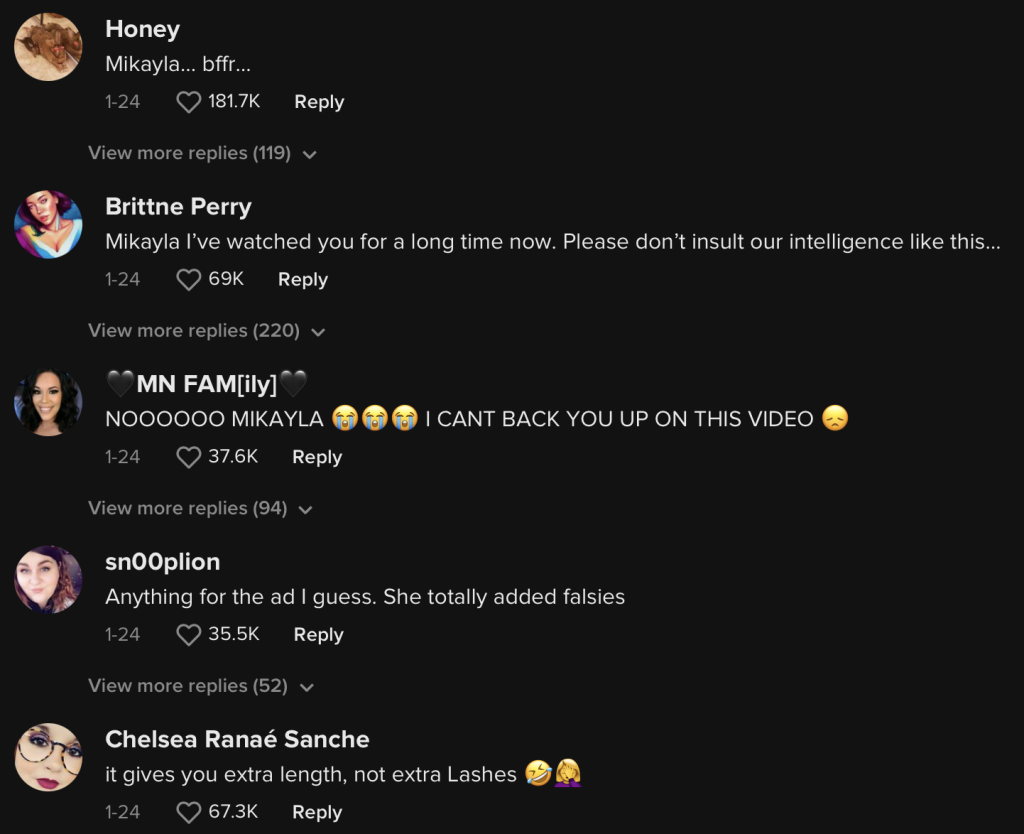 Noguiera discreetly disclosed that the video promoting the mascara was a partnership with L'Oreal; she put text on the video that read "L'Oreal Paris Partner," yet the text was hidden by the caption, assuming viewers were watching on a mobile device. Other beauty influencers on Tik Tok, including problematic Jeffree Star, posted videos advocating for beauty influencers to not partake in false advertising. In his video response, Star said, "There's nothing wrong with taking sponsorships… but Mikayla, you set the tone now." Noguiera's followers expressed how "Mascara-Gate" affected their trust in her makeup reviews.
Advertisements on television have become dramatized across all industries, yet influencer advertisements feel more personal to the viewer due to multiple factors: they are watching on their cell phone, the framing on Tik Tok feels more intimate, and most influencers claim honesty while conducting makeup reviews. Viewer expectations of advertisements are dependent upon the medium in which they are consuming the advertisement. One comment on this Tik Tok video reads, "it was never a mascara issue, it was credibility," showing just how important transparency is to viewers on Tik Tok.